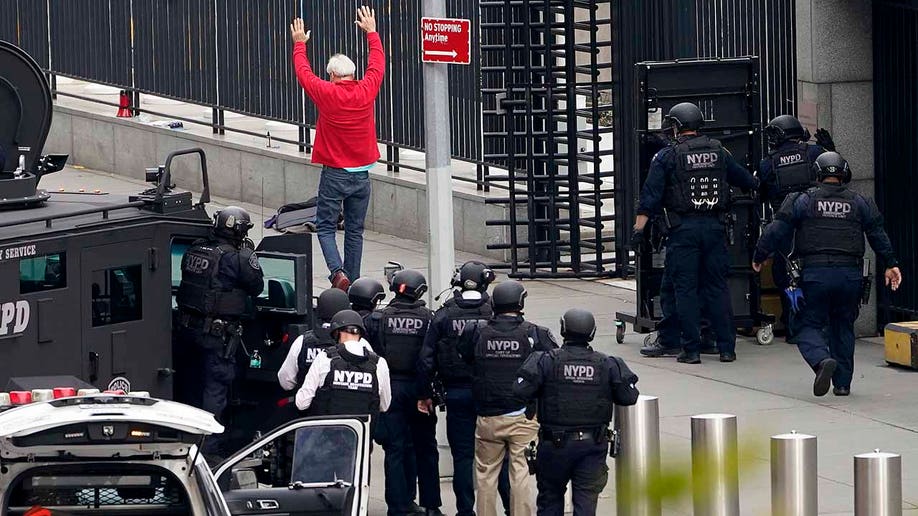 UN lockdown: NYPD take man with gun into custody following hours-long negotiations
The man who held a loaded shotgun below his chin outside the United Nations headquarters Thursday as NYPD officers negotiated with him for hours until he finally surrendered wanted papers and other documents delivered to the intergovernmental organization, police executives said at a press conference.
[More]
What is a Good Question?
Check out this snippet from the world of "narrative medicine." I've found the best way to keep myself sharp with my crisis communication skills is by exploring how the skills are used outside my direct profession. Note the caption below (and I suggest you read the whole article) on being curious leads to being genuine and not just asking the "right questions" but asking them the "right" way:


Patients often report that it wasn't the questioning that helped most in a conversation (at least so far as they can remember) but the overall stance of curiosity in their interviewer. Indeed, we have often seen clunky questions do the trick so long as the interviewer was genuinely engaged and curious. 'Text book' questioning can achieve nothing at all if delivered in a way that seems rehearsed or inauthentic.
I'm a SPF crisis negotiator. This is what it's like handling suicide interventions & prolonged stand-offs.
Superintendent McIntyre Rosie Ann, who has been with the Crisis Negotiation Unit since 2012, offers her perspective on these life-threatening situations.
...Sometimes, they may say things in a certain manner but they mean something else. There's an underlying meaning. So we have to pay attention to all the small details to really understand what's the underlying problem they are facing.
[More]
Abducted Haiti missionaries describe daring escape
Twelve missionaries who were abducted in Haiti managed to get away on their own, their organisation has said.
The group escaped their captors at night and used the stars for navigation to trek through dense bush for hours, a spokesman said.
...The gang that seized them had demanded a ransom of $1m (£740,000) per hostage. It is not clear if any money was paid.
...At the time of their release, police spokesman Gary Desrosiers told AFP news agency there had been weeks of negotiations between the gang, known as 400 Mazowo, and authorities.
Moonshine stills and a marijuana grow found after Wednesday's Harrah standoff, negotiator describes sequence of events
"I don't know if he's a good guy, bad guy or any other guy, he's a person in crisis and he needs some help and we're all human beings," said Davenport, a 10-year veteran negotiator with the Oklahoma County Sheriff's Office.
[More]
Awe & Wonder
Research has shown that experiencing awe can have numerous benefits, including emotional control, improved focus, better decision-making, humbleness, and curiosity (hmm there's that word again!). Aren't all of those what contribute to being a good negotiator? Who would have ever thought awe moments could lead to that.
Here is a short awe exercise video that I have used in police trainings (including homicide investigators). It starts with a one-minute breathing exercise
[HERE].
After trying this out, send me an email and let me know what you think.
Negotiators Getting Promoted
Keechant Sewell to Become First Woman to Lead N.Y.P.D
In 23 years with the Nassau Police Department, Chief Sewell, who grew up in Queens, worked in the narcotics and major cases units, and as a hostage negotiator. She was promoted to chief of detectives in September 2020.
Deputy police chief selected in South Portland
Kevin Gerrish joined the department 20 years ago and has commanded the Southern Maine Regional Crisis Negotiator Team.
Meet Charles Roca, Allentown's first Latino police chief
From there, Roca quickly built a body of experience on the vice unit, as a certified K9 handler and as a member of the crisis negotiation team.
Does the US pay ransom for kidnapped Americans?
Officially, when it comes to Americans kidnapped overseas and held for ransom, the U.S. government has a "no ransom" policy. However, as Aaron Nolan showed in a Friday morning Smart Board segment, there are "asterisks" at play in that policy.
[More]
Concord police tout Crisis Negotiation Team
"No matter what my title is, it doesn't matter. No matter what I'm wearing, it doesn't matter. It's just Shasta talking to them,'" she said. "I want to know what they care about, and I really want to know why they're in that situation. Why have they barricaded themselves? Why are they on top of this bridge?"
Deputies Take Different Approach To Law Enforcement Through New Program"
Almost everything we have to do is negative," Warrell said. "There's only a handful of things people want to see us for, so we're inclined to see someone in crisis."
[More]
Up-coming events of interest:
Nashville, TN Jan 31 - Feb 1