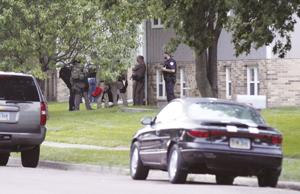 Twitter was the method used by the Vermillion Police Department at about 8:30 p.m. Thursday night to initially inform the public that a standoff with a jail escapee that had gone on for hours in Vermillion had ended.

"Barricaded suspect situation has ended, Charles Mix County escapee Jubal Grant is in custody," the Vermillion Police Department tweet states.

Social media was just one of the high-tech tools used by law enforcement that day to eventually get Jubal Grant back behind bars. Everything from a drone to a robot equipped with a video camera and a two-way radio were among the tools used by officers that allowed Thursday's incident to end with the best possible outcome, said Vermillion Police Chief Matt Betzen.
Read more from PlainTalk.net [HERE].