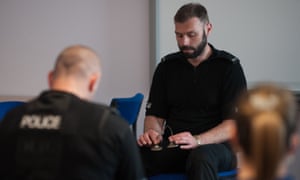 This article can serve as a great reminder to those who constantly work in crisis situations that having a wellness/self-care plan in place is not just important, I would go as far as saying it is required. It can help you be more effective during crisis incidents as well as make you be calmer and overall more relaxed. [Here's some examples of mindfulness practices]
The College of Policing is to fund a trial of a secular version of mindfulness training for more than 1,500 officers in part to combat soaring stress and anxiety in the service, which has forced record numbers to take time off sick in the past year. Its backers hope to improve officers' management of high-adrenaline confrontations, make them more alert when gathering evidence, improve listening skills when dealing with witnesses and victims and even help firearms officers make better decisions.
...There are early signs of possible effectiveness in policing. An initial trial in Bedfordshire suggested work-related-burnout was, on average, lower for 72 people who used the techniques and an internal report concluded: "Participants reported sleeping better, being able to reduce pain medication and feeling calmer and less reactive."
...Stress is a serious problem for the police. Nearly 10,000 officers, equivalent to one in 12, took time off sick with stress or anxiety over the past year, according to figures released this summer.
Read the full article [HERE].